Tonight is Bucks Locavore ~ Buy Local Networking Event!
Bucks Locavore ~ Buy Local Event is Tonight!
The 9th Annual Bucks Locavore~Buy Local Networking event is tonight! We have been looking forward to this event and can't wait to see all of our returning producers and meet the new producers. This is sure to be the areas largest networking event of the year and best of all – it will feature the best food and beverage in Bucks County!
If you haven't yet RSVP'd for the event, please do so by visiting the event's Facebook page.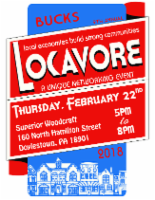 Details:
The Locavore ~ Buy Local Event will be held at Superior Woodcraft, located at 160 N. Hamilton Street (between Union and Doyle) in Doylestown Borough.
Time:  Doors open at 5 pm and close at 8 pm
Admission: Admission is free, however, we ask that you bring a canned or dry food donation for the Bucks County Housing Group Pantry who will be collecting on site.
PARKING – we suggest using the free county lot located on Broad Street between Union & Doyle, just a few short blocks from our location.  If utilizing street parking please be considerate of others in the neighborhood and do not block any driveways.  Thank you in advance for your consideration and cooperation.
We can't wait to see you there!