A Special Thank You For a Great Bucks Locavore ~ Buy Local Event
Bucks Locavore ~ Buy Local Event
Thank you to everyone who participated and attended the 2018 Bucks Locavore ~ Buy Local Event.  Several hundreds of  people gathered to support local Bucks County Businesses and to donate food to The Bucks County Housing Group's Food Pantry.   The evening was a great success with lots of friendship shared with fabulous local foods and beverages.  While it was a local event there were two guests who traveled from Vermont to experience this unique Bucks County event.
A special thanks to all of our local food and beverage producers:
Bill's Best BBQ, Bishop Estate Vineyard and Winery, Boardroom Spirits, Buckingham Valley Vineyard, Bucks County Brewery, Bucks County Preserves, Castle Valley Mill, Confection Perfection, Crooked Eye Brewery, Don't Worry BEE Healthy, Doylestown Brewing Co., Doylestown Food Market, Eagles Peak Spring Water, Fulper Farms, Graziano Products, Hewn Spirits, Hickory Kitchen, Homestead Coffee Roasters, Jamie Hollander Gourmet Foods and Catering, Just Food, Karamoor Estate Vineyard, Laurie's Chocolates, Locavore at Your Door, M & E Edibles Cake Dezigns, Nina's Waffles & Ice Cream, Noble Sweets, Nutty Novelties, Offbeat Gourmet, Olive Oil Etc., One Sweet Baker, Perkasie Famers Market, Pierre's Chocolates, Q's Cookies, Rose Bank Winery, Simply Fresh by McCaffrey's, Sole Kombucha, Spirited Stones Holistic, Tussock Sedge Farms, Wrightstown Farmers Market, Wycombe Vineyard.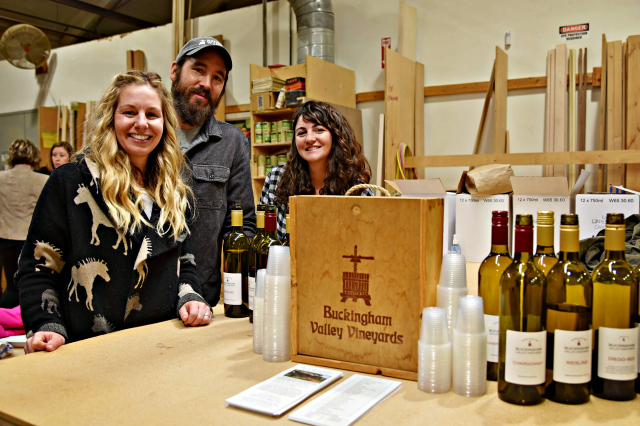 Buckingham Valley Vineyard at 2018 Bucks Locavore ~ Buy Local Event