Superior Woodcraft Hosts Locavore ~ Buy Local Event to Promote Local Economy and Build Stronger Communities
The 2016 Bucks County Locavore~Buy Local Event Anticipates the Largest Attendance to date with over 700 Business Networkers, Community Leaders and Media Supporting the Buy Local Movement.
The community is invited to attend a unique networking opportunity hosted by Superior Woodcraft. The 7th annual event, celebrates and promotes independent, locally owned businesses in and around Bucks County, PA featuring over 35 of the region's top food and beverage purveyors.
Superior Woodcraft, Inc., nationally-acclaimed custom cabinetmaker once again hosts this exceptional networking event showcasing locally produced products from in and around Bucks County, Pa. Over seven hundred guests are expected to gather at Superior Woodcraft on Thursday, February 25th, from 5:00 pm to 8:00 pm. Attendance is free and open to the public, all businesses as well as media organizations.
Guests attending the Bucks Locavore Event will relish in amazing cuisine inside a historical factory building where custom cabinets are handcrafted. Business owners are invited to come network and strengthen their business partnerships while learning more about the exceptional quality and diversity of locally available goods, products and services.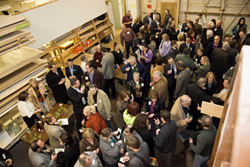 Over thirty five local producers will be offering scrumptious samples of their products, including Bill's Best BBQ Sauces, Blue Moon Acres, The Brown Soap Company, Bucks County Brewery, Bucks County Preserves, Buckingham Valley Vineyard, Castle Valley Mill, Crooked Eye Brewery, Confection Perfection, Don't Worry Bee Healthy, Doylestown Brewing Company, Doylestown Food Market, Fulper Farms Giggling Goat Dairy, Goodnoe Farms, Graziano Products, Homestead Coffee Roasters, Just Food Catering, Karamore Estate Wines, Laurie's Chocolates, The Market at Del Val College, Mccaffrey Markets, M & E Edibles, Nina's Waffles, Noble Sweets, Offbeat Gourmet, Sweet Victory Gluten and Dairy Free Treats, The Tea Can Company and Wycombe Vineyards.
Superior Woodcraft is committed to strengthening the local economy by hosting the Bucks Locavore ~ Buy Local event each year. Patrick Kennedy of Superior Woodcraft says, "Each year the Bucks County Locavore ~ Buy Local Event becomes larger and stronger. We see more and more people interested in the buy local movement and are becoming engaged in the buy local movement. People like Matthew Stumpf of Lionize Productions Studios are using their talents and are finding creative ways to help support other local businesses and their community."
Michael Stumpf used his talents to create a video about the 2015 Bucks County Locavore ~Buy Local event. Stumpf says, "Lionize Productions/Lionize local share a huge part of the Locavore wheelhouse in not only supporting small business but encouraging entrepreneurship and enabling dreamers by actually helping them wake up and live their dreams." Lionize's video captured the soul of the buy local movement and the heart of Bucks County.
The Bucks Locavore ~ Buy Local event offers awareness to the community of what's available to them in their own backyard. By sampling and ultimately purchasing these goods it reminds people how crucial it is to reinvest in the local economy in order to see the infrastructure and public assets continue to thrive and in turn, makes our community a better place to live. By participating and attending the event it benefits consumers, producers and everyone who lives in and around Bucks County.
About Superior Woodcraft, Inc.
Superior Woodcraft, in Doylestown, PA, designs and handcrafts heirloom-quality cabinetry for the whole home with sustainable methods and materials, providing beauty, utility and peace of mind. Family owned and operated since 1967.
Contact:
Mr. Patrick Kennedy
pkennedy(at)superiorwoodcraft(dot)com
Superior Woodcraft, Inc.
160 N. Hamilton Street
Doylestown, PA 18901
215-348-9942
For more information or to RSVP, visit us on Facebook- Bucks Locavore