Superior Woodcraft Delivers Utility – Vermont 802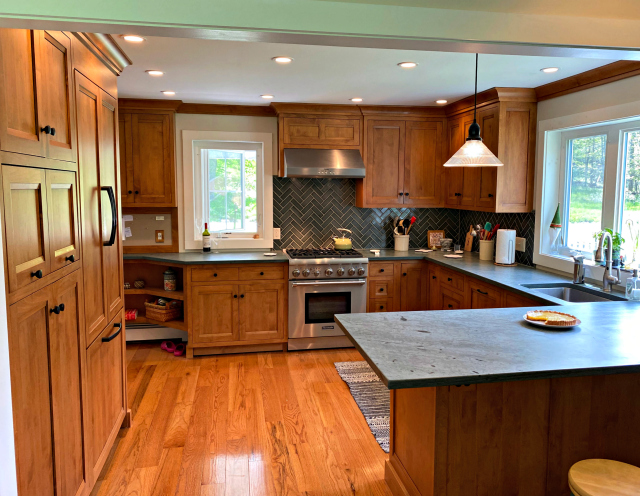 A kitchen that looks beautiful, but doesn't function well and doesn't provide utility for the owner is not superior and certainly isn't a Superior Woodcraft kitchen.  A requirement for a Superior Woodcraft kitchen is that it not only needs to look beautiful, but it also needs to be well functioning and provide utility for the family.  A Superior Woodcraft kitchen complements and improves the owner's daily life.  Since the needs and desires of each family differ the beauty and utility created by Superior Woodcraft for each project is unique and individual as well.  Superior Woodcraft's products are truly custom. In our last blog post we explored the charm of a Vermont kitchen remodel by Superior Woodcraft.  In this post we will explore the hidden utility that is packed into the beautiful design of this Vermont kitchen.
Superior Woodcraft Delivers Utility
We aren't going to tip toe around here.  Below are photos of toe kick drawers.  Why waste the few inches of space in the toe kick area.  The owner of this kitchen maximized storage space by adding low profile drawers for baking pans and tins.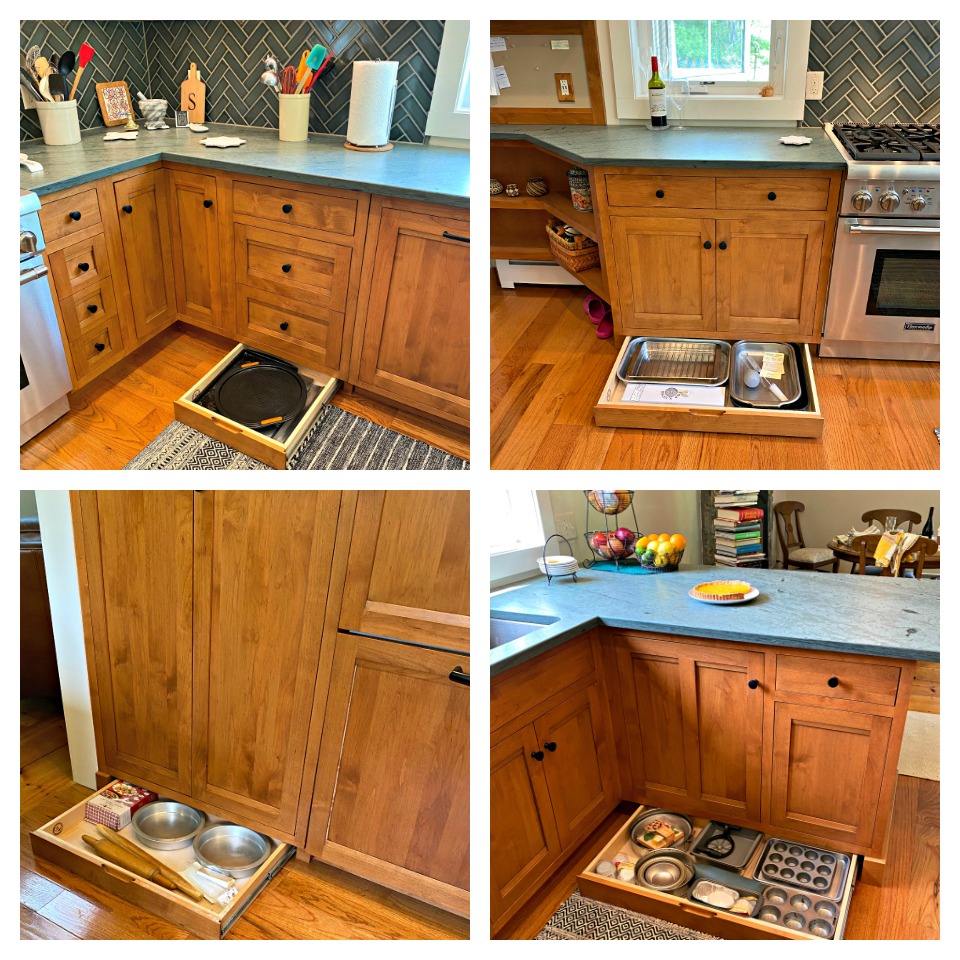 No More Blind Corner Storage Problems
Many kitchens have that annoying corner where you can't find those items in the dark recesses unless you crawl inside the cabinet. One older solution was to use a lazy susan.  The lazy susan worked better until something fell off into the dark void making almost impossible to retrieve. Below is the accessory that solves that problem by bringing the simple pull of a handle.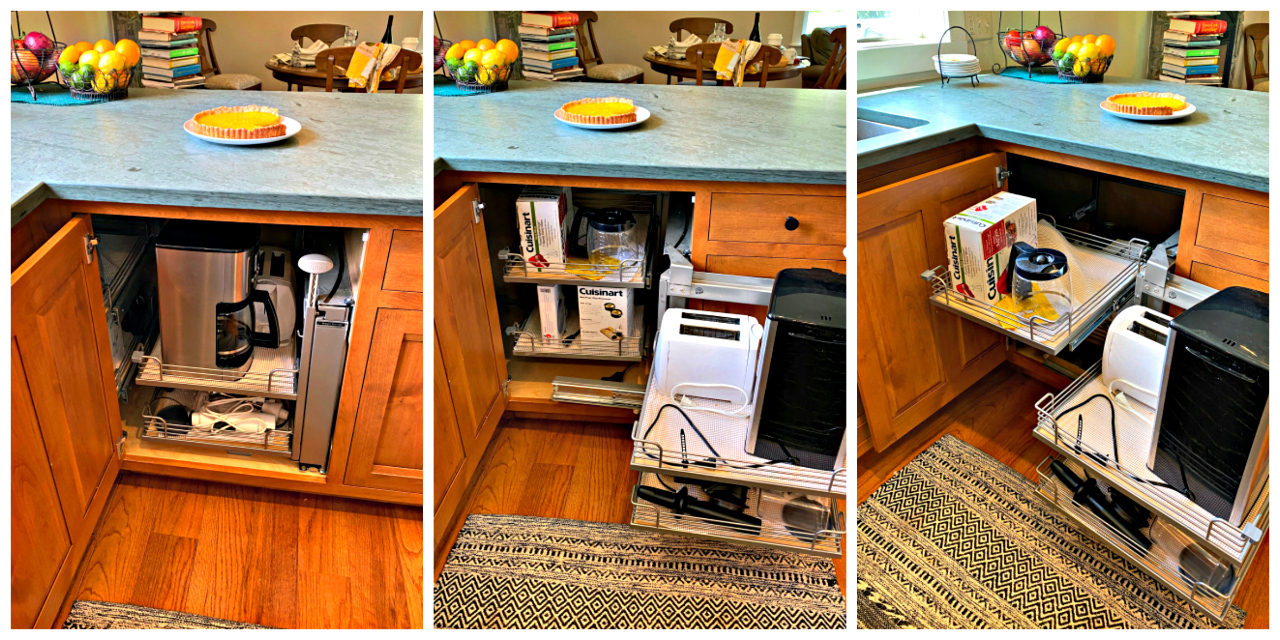 Sweeping Changes to the Old Broom Closet
Utility doesn't need to look like a utility closet or mechanical room.  Here Superior Woodcraft designed and handcrafted a lovely piece of furniture to house an integrated refrigerator/freezer, a convenient broom closet and provide storage.  All are hidden in plain sight.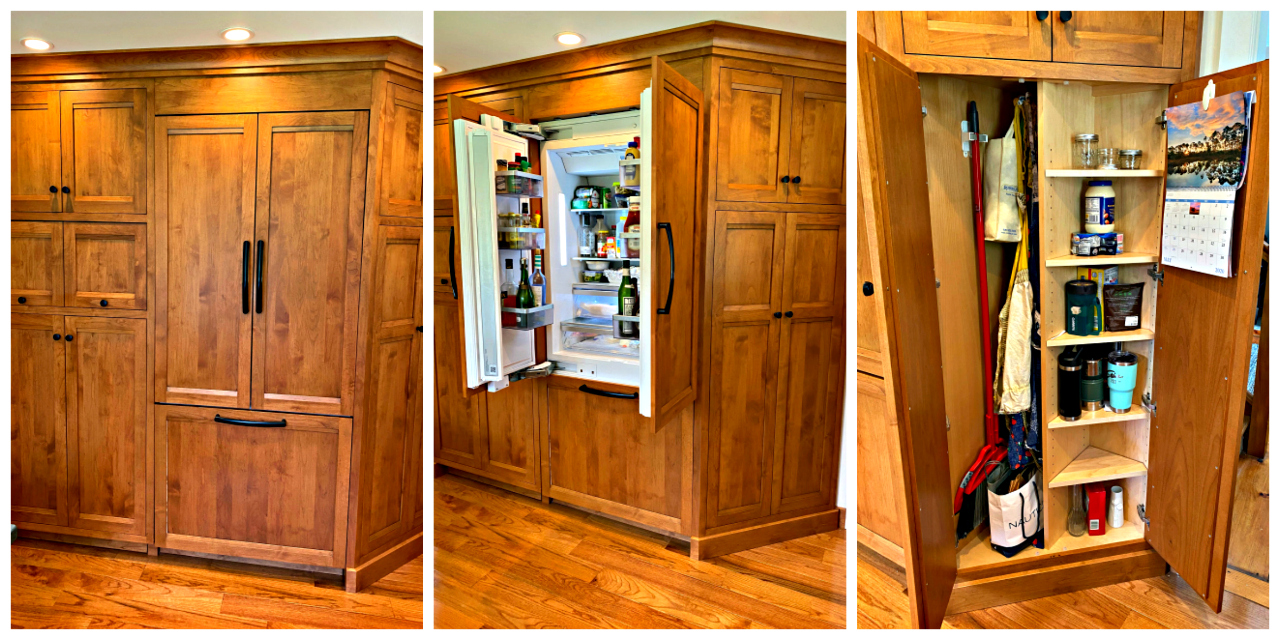 Superior Woodcraft Delivers Beauty, Utility,……
So far Superior Woodcraft has highlighted the beauty and utility of this highly function Vermont kitchen.  Stay tuned to
Related Post  Superior Woodcraft Delivers Beauty – Vermont 802