American Chestnut – If Wood Could Talk
At Superior Woodcraft our craftsmen recently completed a project that was placed on hold due to the Covid-19 pandemic.  The pandemic made me think  really think and appreciate this commissioned project; coming upon the celebration of America's independence on July 4th also turned my thoughts back to this project.  Why was this single project
resurfacing in my mind so much?  Well, the wood used for this project is special because we had the privileged of handcrafting reclaimed American Chestnut into fine custom cabinetry that will continue to provide beauty and utility for a family for many years to come.
American Chestnut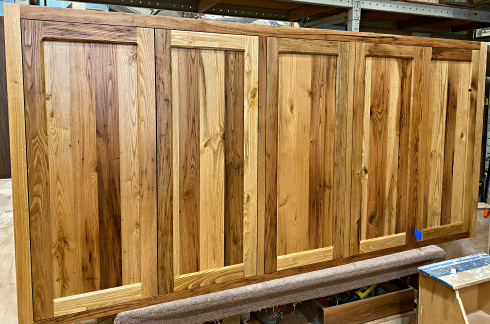 At first glance it might not sound so special, but as the pandemic set in one thought about this history making event. A type of event that very few of us have ever experienced.  Working and shaping American Chestnut makes one think about the history that wood has witnessed.  First, this tree was harvested at least 100 years ago.  Next, american chestnut trees lived to be 500 years old.  It is very likely that this very chestnut wood that Superior's craftsmen shaped into a new form first sprouted from the earth before America was even a nation.  For simplicity sake  just assume that this particular chestnut tree first sprouted about 200 years ago.
So what history did this tree witness?
1820 – There were 22 states in the union
1861 – American Civil War
1879 – Long lasting light bulb invented – now LED
1900 – US population exceeds 75 million – 2020 – 330 million
1917-18 – WWI and Spanish Flu
1930s – Depression
1940s – WWII
1969 – Moon Landing
1976 – Apple Computer was formed
1990s – 2g cell service
2020 – Covid-19
These are just a few of the major events that occurred since  50% carbon, 42% oxygen, 6% hydrogen, 1% nitrogen, and 1% other elements came together to create this chestnut wood.  Most likely this wood saw the birth of our nation and every 4th of July celebration ever since.  Now, Superior Woodcraft's craftsmen extend the life of this wood, which will bring beauty, pleasure and utility to a family's home.
Reflection on the Past Life of our medium – Chestnut Wood

As a craftsman laying hands on this wood you can't help to think that you are touching history.  You think about the loggers who felled the tree by hand, the horses and mules that pulled that log from the forest, the sawmill that created boards and beams for a barn to house livestock that supported a family. And now, we shape that same wood into fine handcrafted cabinetry.
Perspective From a Chestnut Tree
Covid-19 – a current disaster and hardship.  It's just one small notable blip in history.  A Superior Woodcraft craftsman in 2020?  Just one few craftsmen from a line of many over the generations that touched this wood over the past centuries.  This special wood humbles us and puts the current events of 2020 into perspective. One day history will simply look back at Covid-19 as just one of thousands of notable points in our history and the craftsmen who created these custom cabinets made of chestnut as just a few of the people who interacted with that wood over the last several hundred years.  It makes you realize that just as this chestnut wood endured for hundreds of years; 2020 will become 2021; today's events will soon be history and we too will endure, survive and grow in the future – just as this american chestnut wood has done.
We hope that you enjoyed the photos of Superior Woodcraft's custom american chestnut cabinetry and the humble insights that this wood has provided.  Have a safe and happy 4th of July celebration. Stay well friends.
Note: To learn more about the american chestnut and modern efforts to revive the species check out The American Chestnut Foundation.