Bucks Locavore ~ Buy Local Networking Event Honored By Bucks Happening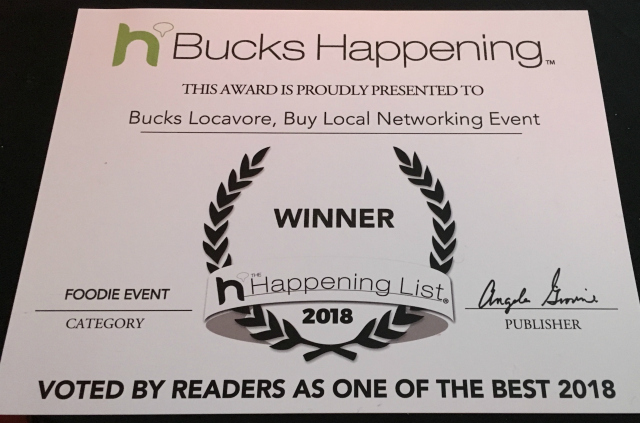 Thanks to all of those supporters who voted Bucks Locavore ~ Buy Local Event as the Best Foodie Event in Bucks County.  Our wonderful local food and beverage producers at the 2018 Bucks Locavore event were recognized by Bucks Happening for their fantastic work.  The Bucks Happening Red Carpet Bash at Penn Ryn Estates was everyone's time to celebrate and have some fun.  Congratulations, as well, to all of the winners of the Bucks Happening List.

2018 Bucks Local Food and Beverage Producers
Congratulations and thank you for all of the amazing local food and beverage that you create.
Bill's Best BBQ, Bishop Estate Vineyard and Winery, Boardroom Spirits, Buckingham Valley Vineyard, Bucks County Brewery, Castle Valley Mill, Confection Perfection, Don't Worry BEE Healthy, Doylestown Brewing Co., Doylestown Food Market, Eagles Peak Spring Water, Fulper Farms, Graziano Products, Hewn Spirits, Hickory Kitchen, Homestead Coffee Roasters, Jamie Hollander Gourmet Foods and Catering, Just Food, Karamoor Estate Vineyard, Laurie's Chocolates, Locavore at Your Door, M & E Edibles Cake Dezigns, Nina's Waffles & Ice Cream, Noble Sweets, Nutty Novelties, Offbeat Gourmet, Olive Oil Etc., One Sweet Baker, Perkasie Famers Market, Pierre's Chocolates, Q's Cookies, Rose Bank Winery, Simply Fresh by McCaffrey's, Sole Kombucha, Spirited Stones Holistic, Sweet Victory, Tussock Sedge Farms, Wrightstown Farmers Market, Wycombe Vineyard.
Thank you also to the talented Jennifer O'Donnell of Jennifer O'Donnell Photography for capturing these moments at the 2018 Locavore.
About: Bucks Locavore ~ Buy Local Networking Event.
For the past nine years Superior Woodcraft has hosted the Bucks Locavore ~ Buy Local Networking Event.  The event is held in late February and is the perfect cure for cabin fever and a great way to start the new year.  Guests are treated to some of the finest local food and beverages produced in Bucks County.  While sampling the delectable local treats guests mingle, chat, network, brain storm and even create new businesses and partnerships.  Bucks Locavore ~ Buy Local is a unique event that is true medley.  Think of a fancy food event, wine and beer tasting, networking and social event as well as a micro-business incubator all combined into one special evening and you get an idea of the experience that is the Bucks Locavore ~ Buy Local event.