251 Custom Furniture on Display in Bucks County Tour
Superior Woodcraft's affiliate 251 Custom Furniture will have a custom table on display in the Bucks Beautiful Kitchen and Garden Tour – June 10th.  This Money Pod Foyer Table will be available for purchase at a discounted price.  If it is purchased during the tour 251 Custom Furniture will donate $200 to the Bucks Beautiful's Replant Bucks Initiative – a Bucks County Reforestation Program.
About 251 Custom Furniture Monkey Pod Foyer Table
The monkey pod was responsibly harvested by a family owned company that not only has sustainable environmental practices, but their commitment also extends to strong support for the local community.
Farmed monkey pod is favorable for the environment. The trees provide shade and habitat. Its detritus helps create nutrients for the soil. Monkey pod is also great at sequestering carbon. A single monkey pod tree can absorb over 100 tons of carbon dioxide. Creating long lasting beautiful furniture from its wood captures and stores that carbon for many years. Finally, as a farmed tree, no natural forests are impacted from harvesting the wood. Continuation of this cycle is beneficial.
About Replant Bucks
Bucks Beautiful's newest initiative RePlant Bucks, was started as a direct result of the accumulated effects of over a decade of disease and invasive insects on the tree canopy in Bucks County. As this has been devastating to witness, through RePlant Bucks we are committed to lead the way in facilitating the reforestation of our local communities and working with other local organizations to restore the tree population in Bucks County.
Kitchen and Garden Tour – A Self Guided Tour – June 10th
This year's tour is on Sunday, June 10 will showcase unique properties in and around historic Doylestown Borough featuring a variety of architectural  and landscape styles, with kitchens & gardens being the main focus of this self guided tour.
Purchase Tickets For The Bucks Beautiful Kitchen and Garden Tour
Order your tickets online here or call 215-340-3639.

Tickets can also be purchased at Doylestown Book Shop (16 South Main St., Doylestown), Bucks Country Gardens (1057 N. Easton Rd., Doylestown), Blue Violet Flowers & Gifts (1346 Easton Rd., Warrington), or Bucks Beautiful's office at 85 E. State St., Doylestown, PA.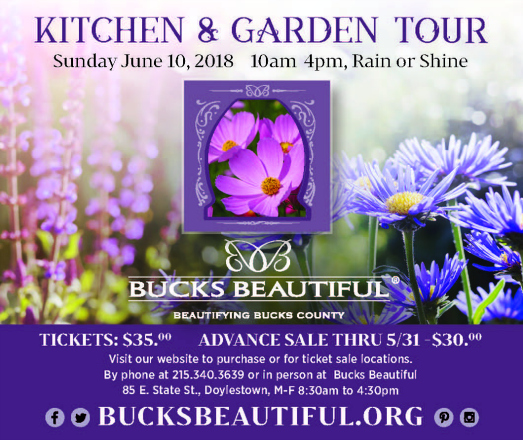 Join Us For the Bucks Beautiful Kitchen and Garden Tour.
Come on the tour and visit some beautiful Bucks County homes and gardens. It is a great way to help support our community and our environment.  We hope to see you on Sunday, June 10th.