Award Winning Year for Bucks Locavore ~ Buy Local's 10th Annual Event
Bucks Locavore ~ Buy Local Networking Event
This year the event was held February 21, 2019 in the historic factory of Superior Woodcraft in Doylestown. Over 500 attendees sampling from over 35 producers from the Bucks County area.  In the last 10 years the award-winning Bucks Locavore ~ Buy Local event has offered abundant offerings from our local food and beverage purveyors introducing community members to the buy local movement.
2019 Best Foodie Event
On April 25, 2019 The Bucks Locavore ~ Buy Local Event was named The Best Foodie Event  – Everything Bucks by Bucks Happening.  This is a people's choice award.  The Bucks Locavore ~ Buy Local Event has received this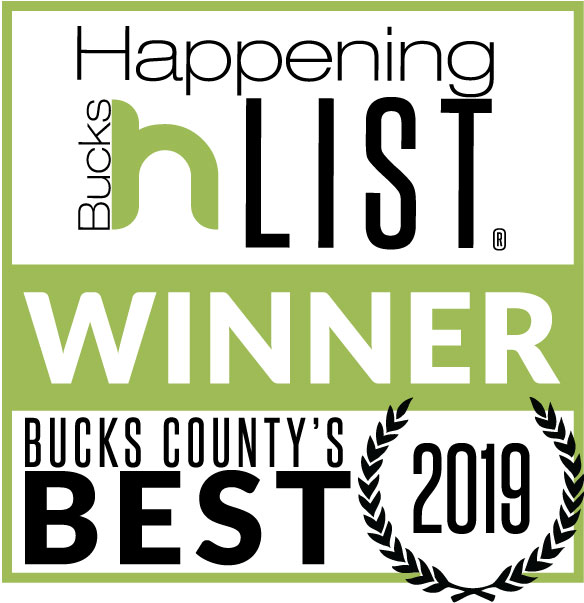 award for two consecutive years.  This recognition indicates how successful and important this event is to our Bucks County Community.  Winning The Best Foodie Event is indicative of the high quality local food and beverage products that are available in Bucks County.
Unique Interactive Event
Bucks Locavore ~ Buy Local is an interactive evening where everyone is part of the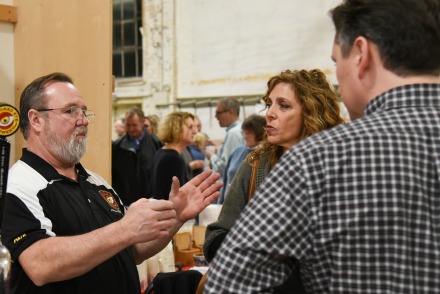 event.  Many business relationships are formed and new customers are earned during the event.  A great example is Laurie's Chocolates.  This year, Laurie Douglass offered samples of her delectable chocolates featuring products from two other Bucks Locavore participants, Buckingham Valley Vineyard and Homestead Coffee Roasters. Laurie says: "Year after year I so look forward to collaborating with my fellow Locavores to debut chocolates made with local products. I enjoyed talking with friends I've made since participating at Bucks Locavore at Superior Woodcraft 7 or 8 years ago, many who I haven't seen since last years' event!" One Sweet Baking Company offered scrumptious desserts infused with products from Castle Valley Mill and Hewn Spirits.
Best Foodie Event – Our Local Food and Beverage Producers
Altomontes                                     Bills Best BBQ Sauces                   Bishop Estate Vineyard
Buckingham Valley Vineyard     Bucks County Cookie Company   Castle Valley Mill
Confection Perfection                 Crooked Eye Brewery                     Doylestown Food Market
Fulper Farms                                Hewn Spirits                                    Homestead Coffee Roasters
Jamie Hollander Gourmet Foods        JustFood                                Geronimo Brewery
Karamoor Wines                          Laurie's Chocolates                         M&E Edibles Cake DeZigns
Nina's Waffles & Ice Cream       Noble Sweets                                     Nord Bread
Nutty Novelties                             Offbeat Gourmet                              Olive Oil Etc
One Sweet Baker                         Pierre's Chocolates                            Poppy's Green Grocer
Rose Bank Winery           Simply Fresh By McCaffrey's                     Sole Kumbacha
Spirited Stones Tea        Sweet Victory Gluten & Dairy Free Treats     The Market at Del Val
Wrights Town Farmers Market      Wycombe Vineyard               Bucks County Housing Group
Garden of Health                            Superior Woodcraft                   251 Custom Furniture
Over $1,500 Raised for Bucks County Food Pantry
The Bucks County Housing Group was onsite once again to collect donations for our local food pantries.   Thanks to the generosity of this wonderful community, we collected    533 pounds of food.  When we add this to over $500 in cash donations, a value of approximately $1500 was sent to the pantries.  Madeline Burgess, BCHG Food Pantry Coordinator mentions: "We are so thankful for the partnership of Locavore and Superior Woodcraft. We are grateful not only for the generous donations, but also the chance to network with the community, allowing us to make new connections, recruit potential volunteers and highlight the work of BCHG in preventing food insecurity."
Our Host and Sponsor – Superior Woodcraft
Superior Woodcraft, award winning cabinet maker in Doylestown, generously opens the door of their historic factory to sponsor and host the event each year.   Patrick Kennedy, of Superior Woodcraft created the idea of this event to keep the buy local movement strong and in the forefront of the public eye. Patrick says,  "A strong local economy is critical in creating a healthy and vibrant community.  The local food and beverage purveyors along with the guests at the10th Bucks Locavore~ Buy Local Event were a prime example of the friendly, strong, caring and vibrant community that we enjoy in Bucks County."  If you missed this year, keep an eye out for the 11th Annual Bucks Locavore at the end of February 2020.  See you there!